Peter Davé – Managing Partner

Peter is a seasoned technology marketing executive with a broad range of client experience for such leading companies as Alteon Networks, Altor Networks, ConSentry, Digital Equipment Corporation, Fortinet, Gear6, Mu Dynamics, NetApp, Novell, Packeteer, Peribit, Scientific Conservation, SunEdison, Vermeer Technologies, WebLogic, Xerox, and dozens more.
Prior to his ongoing collaboration with Gallagher Group Communications as Senior Director of Strategic Services, Peter was co-managing partner of Davé & Bairey Communications, LLC. He has also held senior positions at Regis McKenna, Inc. and Ketchum Communications. He graduated with honors from San Jose State University in journalism and political science.
Stan DeVaughn – Creative Director

Acclaimed for his work on marquee names and brands in Silicon Valley, Stan's initiatives and leadership in early-stage enterprises as well as such established brands as Apple, NetApp and McAfee have repeatedly captured market share, driven growth in revenue and market value, and reduced sales costs. He has introduced more than 30 products and services, included a SaaS offering he co-developed, and positioned a number of I.T. companies for IPO or acquisition. DeVaughn's success in applying social media to business-to-business marketing has earned commendation by CIO Magazine and CIO Executive Council. His book, NET Value: How You Can Profit While the Digital Culture Changes Your Value Proposition (2008) became part of the Executive MBA curriculum at the University of San Francisco.
Bob Michelet – Senior Writer

Bob applies the experience of a multi-faceted career in marketing and communications to the needs of clients to explain advanced technologies and their benefits for customers. Bob has spent nearly 30 years in technology marketing, with concentrated expertise in corporate- and product-level positioning and communications strategy.Bob held several marketing positions at Cisco Systems, the worldwide leader in networking for the Internet, during a period of extraordinary growth and market change. Prior to joining Cisco, Bob was partner in charge of the networking and communications practice at Regis McKenna Inc., a technology marketing consulting firm. In 11 years at the firm, he advised a wide variety of clients on marketing and communications strategy, new-market development, and channel strategy.He began his professional career as a writer and editor for The Oregonian newspaper. Bob is a graduate of Stanford University.
John McClave – Senior Writer

John is a veteran communication strategist, copywriter and creative director with over 20 years of experience spanning all marketing disciplines and communication channels. For twelve of those years he held creative director posts at Grey Advertising in San Francisco, London-based Citigate Group (where he was also a managing director and served on the North American executive board) and Thunder Factory in Silicon Valley.
An integrated marketing practitioner throughout his career, John has written or supervised the creation of everything from print and broadcast advertising to websites, brochures, on- and offline direct marketing, case studies, white papers, annual reports, press releases, contributed articles, corporate videos and brand identities. He is also active at the strategic level, working with clients to develop their positioning and messaging. He has worked with clients in a wide variety of categories, notably technology, financial services, business-to-business, international marketing and California wines. His work has won awards in a number of industry forums.
Roger Biery – Senior Writer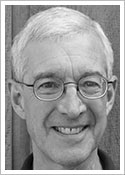 Roger Biery has nearly three decades of successful sales and marketing experience in the computer networking industry, and specializes in writing contributed articles, white papers, case studies and other marketing collateral. He has worked with over 40 different clients writing hundreds of white papers and contributed articles.
Roger's career spans director-level sales and marketing roles and product line management with companies that include Hewlett-Packard, Dataflow Systems and Ungermann-Bass. He also served as vice president of marketing with Luxcom. Roger graduated Magna Cum Laude from the University of Cincinnati with a BSEE degree in Electrical Engineering.